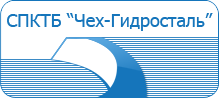 (496)
722-26-55
722-24-43

spktb@spktb.ru
List of Services Rendered
Development of design documents for mechanical equipment, substandard equipment, special hoisting machines and metal structures for waterworks of HPP, TPP, NPP, Pumped-Storage Power Plants, Condensing Power Plants, and projects with nonconventional power sources, including:

Cranes (of various types, use and lifting capacity);
Gates of various types with embedded parts;
Safety screens (trash racks);
Pick-and-place devices for servicing the gates and screens, including hydraulic drives, cranes with the set of attached implements (catching beams, cross-beams, and grippers);
Trash raking machines of various design;
Crane and secondary bridges, trestles for mechanisms, gate storage facilities, transport overbridges, equipment repair accessories and other means;
Carrying and lifting equipment for construction and erection work;
Navigation facility equipment (sluices, gates, anchors and collars, floating ring bolts, accessories for protection of sluices against docking impact);
Pressure pipelines with stop valves, steel plate lining, pipe supports, compensators;
Fish-protecting and fish-passing facilities (plane and cone rotary meshwork, fish barriers);
Substandard equipment for NPP (groove cleaning scrapers, hydraulic conveyors, reactor compartment cooling pond hydraulic hitches, chemical agent dischargers, leak-free doors, leak-free manholes, leak-free covers).

Development of design documentation (drawings of metal structure stage and detailed metal structure stage) for manufacture of construction metal works for industrial and civic buildings and facilities, including:

Building frames (columns, beams, lattice girders, platforms, ladders, and guards);
Smoke pipes of various diameters (600 mm and more);
Crane-runway beams;
Overpasses;
Cement storage structures (cement silos);

Development of design documentation for reservoirs and tanks for gas and oil products, pressure vessels, pipelines, circulatory water pipelines, including:

Vertical reservoirs;
Horizontal axis reservoirs;
Recirculated water pipelines of various diameters;

Strength analyses of equipment and structures;
Technical translation. English-Russian (Russian-English).

and other

...