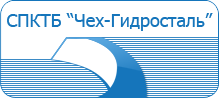 (496)
722-26-55
722-24-43

spktb@spktb.ru
METALWORK
Metal structures comprise the major portion of assortment of the products of SPKTB Chekh-Gidrostal LLC. Our bureau designs and produces embedded parts of gates and flood gates, pipelines, pipeline Y-pieces and collectors, transfer chambers and compensators of various diameters, metal structures for industrial buildings, centre girders for suspended boilers of TPP, chimney flues of great diameter and height with stainless internal barrel, as well as chimney shafts for concrete shell, bridge structures and trestleworks, vessels and other metal works.
Pressure pipelines for HPP, TPP and NPP, and water pipeline for irrigation systems are fitted with expansion bends and expansion joints.
When locking the ships in the sluice chamber, in order to exclude impacts with chamber walls and gates, the ships are moored to floating rings, which move following the change of water level.
We also develop chimney flues of unique structure for TPPs (earlier delivered from Germany). Pipe structure is the bearing chimney shaft with bleeding stainless steel channel. Height of the pipe is more than 100 meters.
We design towers for cellular communication that are composite structures assembled at the site. Height of the tower is about 70 meters and it is suitable for various wind zones.