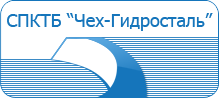 (496)
722-26-55
722-24-43

spktb@spktb.ru
Machinery and crane equipment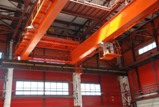 SPKTB Chekh-Gidrostal LLC develops various mechanisms for hydropower and water industries as well as overhead and gantry cranes.
Special hydro-engineering tower cranes are used for building and erection purposes in the process of construction of hydropower plants. Erection and equipment-repair works in machine rooms of electric power plants are carried out using special overhead traveling cranes and gantry cranes. Gates, flood gates and other hydromechanical equipment are controlled by means of special mechanisms.

Hoisting mechanisms of various pulling force, cable mechanisms, lantern wheel mechanisms and screw mechanisms, chains, mounting blocks and pulley-blocks, and mounting facilities
Crane equipment, i.e. tower cranes, overhead traveling cranes and gantry cranes of various lifting capacity, beam cranes of various spans and up to 10 tone-force capacity, electric hoists of 32 and 70 m lifting height and up to 10 tone-force capacity, load lifting gantries, as well as spare parts.
At the Thermal Coal-fired Electric Power Plants and other sites, car dumpers for automated unloading of coal and other granular materials, transported by means of railway cars, are used.
Flood gates are opened using hydraulic actuators, lantern wheel mechanisms, cable mechanisms or chains.